Well, the weekend started normal enough, get everything loaded up and hit Waffle House for breakfast before heading off to the east.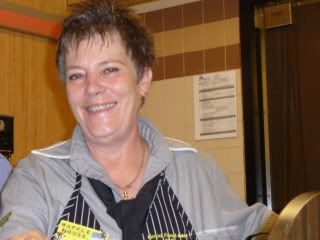 (Moni - Our favorite Waffle House harasser... I mean waitress)


Of course, you never know when you'll have some parking lot entertainment to make you appreciate your mundane life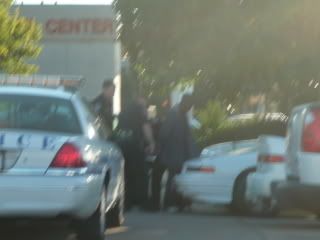 Had a good pre-ride with Cynthia and Raine, just out enjoying the day and the ride. Later that night while at dinner I spotted this thought provoking sign on the front of the dessert cooler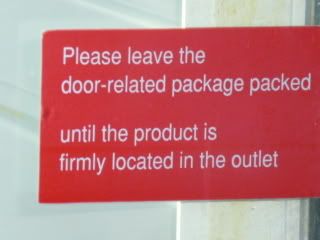 Oh my - I would hate to have the package unpacked before being firmly located in the outlet!

Lincoln Parish Park, Ruston Louisiana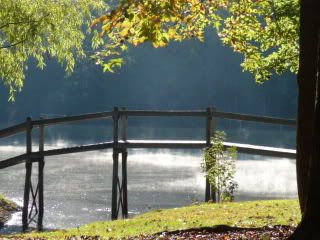 Saturday was pain filled fun on a bike (see post below), followed by a good dinner with good friends. Recovery at it's finest!

Sunday was the third and final race of the stage... a 20 mile (2 lap) cross country race - wheee! All I could hope for was that the other ladies had the same heavy, tired legs that I did. After a little warm up spin the legs started feeling better and I was as ready as I was going to be for the race.

The usual cast of characters line up and Jurgen gives us the 15 second countdown to

GO!

The race start is fast and I find myself up front with Cynthia, but also find myself starting to hit my max heart rate - not a good thing this close to the start. I fade back a bit and hold my place but keep Cynthia in sight in the single-track, but she puts a gap on me when we get to a long open section. Kathleen (30-39er) takes a pass and since we are about the same speed I grab her wheel. Tonya passes when we get to a section that I don't like, but I work to keep her in sight. The rest of the 1st lap is spent keeping Tonya in sight. The start of the 2nd I can see Tonya in the distance and Kathleen is between us. I'm happy with this and hoping I can keep up the pace. I finally catch up to and pass Kathleen and we pass back and forth a couple of times before she is able to gap me again. About 1/2 through the lap we come by the parking area and I'm told that "she's right there, only about 10 seconds ahead". Kathleen isn't in my class, but it doesn't matter, having a "rabbit" to chase keeps the focus on racing. I keep chasing but can't seem to close the gap. I catch and pass one of the guys and close to the end I find another to chase, but can't catch sight of Kathleen.. dang it! I later found out that she had a mechanical and DNF'd (did not finish) - no wonder I couldn't find her!

Hike up the final steep climb, fly down the final descent (hitting 30.5mph!), struggle up the final false flat and finally cross the finish line. My third 3rd of the weekend, with an overall finish of... you guessed it... 3rd!

So far, I've been pretty happy with my racing this Fall. My times have been closer to the leaders and I took 20 minutes off my lap times compared to last year's Ruston race.


Women - Expert - 40-99




Place

Name

Time

Team

1
Cynthia S

2:2:19.00
Bike Barn/Gary Fisher/Subaru
2
Tanya W

2:3:52.00


3
Kathy J

2:7:20.00
Matrix RMB
4
Pamela J

2:12:19.00
Mad Duck Max Muscle
5
Janis M

2:17:25.00
Bicycles Inc/TREK
"To be a cyclist is to be a student of pain....at cycling's core lies pain, hard and bitter as the pit inside a juicy peach. It doesn't matter if you're sprinting for an Olympic medal, a town sign, a trailhead, or the rest stop with the homemade brownies. If you never confront pain, you're missing the essence of the sport. Without pain, there's no adversity. Without adversity, no challenge. Without challenge, no improvement. No improvement, no sense of accomplishment and no deep-down joy. Might as well be playing Tiddly-Winks."

Scott Martin



I'd say that pretty well sums it up. Does that also imply that cyclists are masochistic? Maybe we are - but ,then again we don't necessarily "enjoy" or derive "pleasure" from the pain. I think it's more that beating the pain is a goal in and of itself and anything beyond that is just icing on the cake.

Ouch - all that made my brain hurt.