Last weekend was my TMBRA Fall race debut at
Palo Duro Canyon
just a hop and a skip (or 375 miles) away from Dallas. This was our 2nd time to race in the Canyon, so it still has the "new" feel to it. This is also such a scenic venue, it is easy to get distracted when you are riding the trails.
The drive down into the Canyon: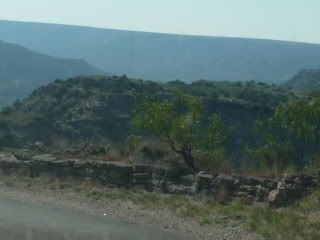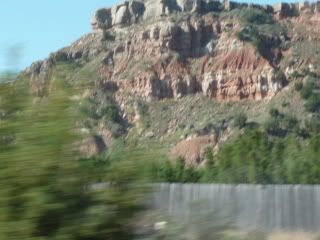 I didn't have the best race experience here last year... me & ledge riding don't mix very well, and I remembered what seemed like a long section of ledgey trail in the race. Our course consisted of an XL loop (15+ miles) and a S loop (3+ miles) which overlaid the last bit of the XL loop. The pre-ride went well (15 miles in about 1:45) and it seemed like the ledge stuff wasn't so bad. Maybe I got better.... nah.
After the pre-ride we held the race clinic, visited with friends and then went up to watch the King & Queen of the Mountain Hill climb out of the canyon. Where they had to get from the bottom of the canyon
up the twisty road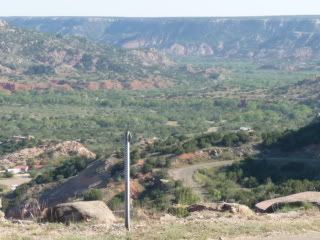 and keep on going to the top.
After watching the suffering of the hill climbers it was time to head back to the hotel, grab dinner and veg out for the rest of the night. With a 9am race start it would be an early morning.
Race morning was chilly (upper 40s-mid 50s) so it was hard to get motivated and moving. With about 30 minutes to the race start I finally got on the bike and started pedaling around to get warmed up. We had a new girl in the class, Kim, who was kicking butt in the Sport class and I later found out is a National Masters Champion on the road...
great
. Anyway it was Kim, Tanya, Cynthia, me and Janis (who was returning to racing after being away for a couple of years).
I had a good race and even did a little back in forth with Tanya, but she ended up getting a gap on me that I couldn't close.
Women - Expert - 40-99




Place

Name

Time

Team

1
Kim

1:40:48
Solar Eclipse
2
Cynthia

1:49:19
Bike Barn/Gary Fisher/Subaru
3
Tanya

1:54:51


4
Kathy

1:56:44
Matrix RMB
5
Janis

2:13:01
Bicycles Inc/TREK


Although nothing spectacular, I was happy with my overall race and time. (Oh - as for getting better on the ledgey stuff... I found out that they took out the worst part of that section of trail.)
The next race is at Lake Bryan in a couple of weeks. This course has a lot of tight twisty single-track, so hopefully that will be to my advantage.