The first race of the
TMBRA
Fall Series has come & gone. Being in the Texas Hill Country, Camp Eagle has rocks... and climbs... and rocky descents. Oh - let's not forget the dry riverbed bottom that can best be described as hard & bumpy with rocky drop-offs, kind of like a moon-scape. There are some fun, swoopy sections of trail that I like riding, but it just does not have a high enough "fun factor" rating for me to do my poor impersonation of a Cat1 (we're not Experts anymore) mountain bike racer.
For all of the reasons that I dislike this trail, Alan likes it. Then again, he & Kyle can ride that stuff and I won't.
Along the way we had a little adventure with the Texas Highway Patrol. Luckily the officer was being nice and just gave Alan one of these: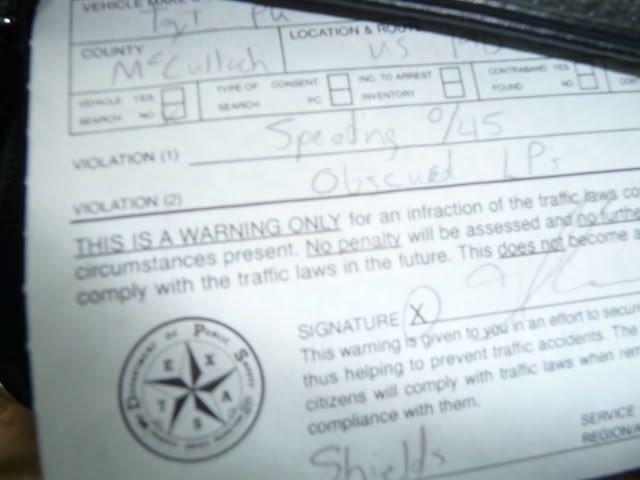 Remember kids - the 55mph speed limit doesn't go into effect until you have reached the speed limit sign, not when you are still in the 45mph zone and can see the 55mph sign
.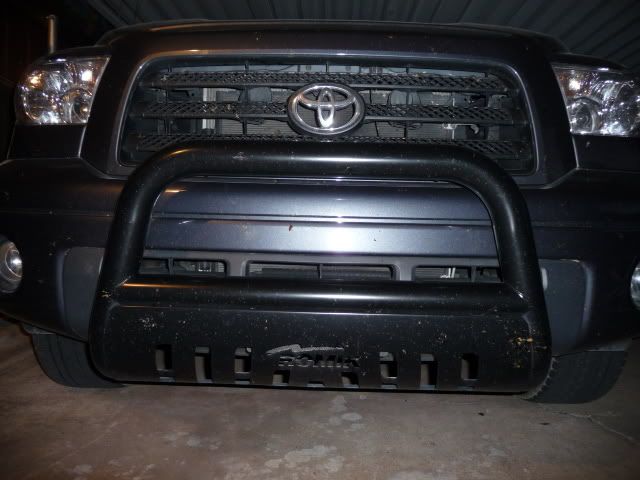 The license plate is there, really it is.
Camp Eagle is pretty much out in the middle of no-where Texas.
No-where as in you have 8 miles of this once you turn off the county road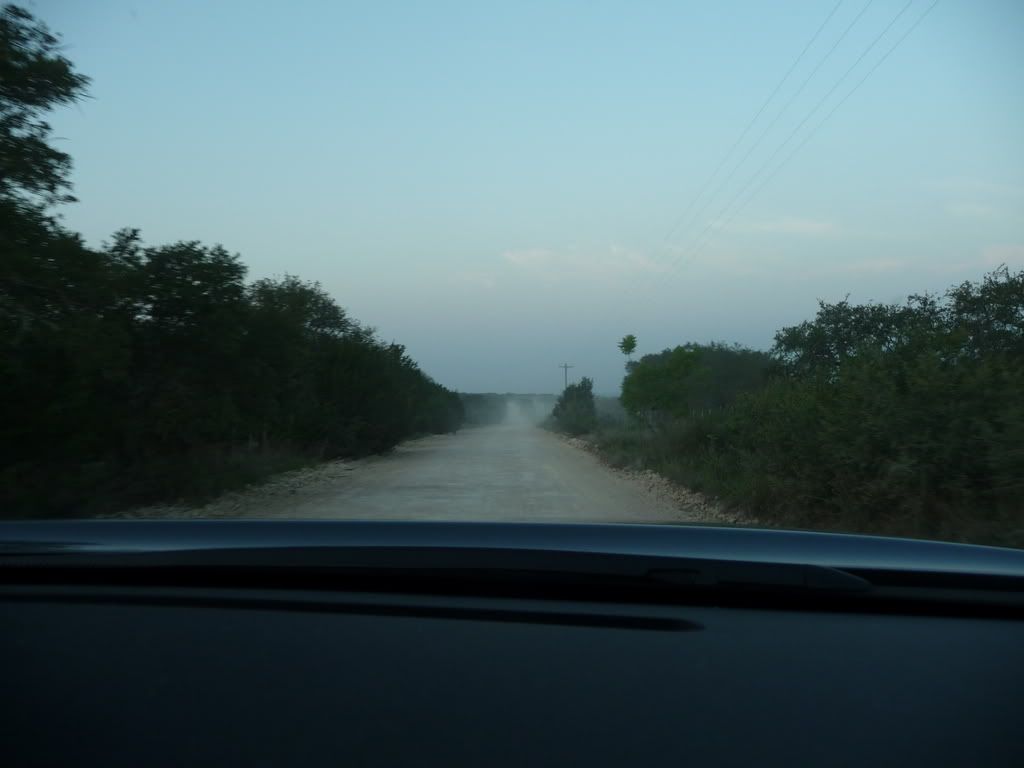 and, what's up with this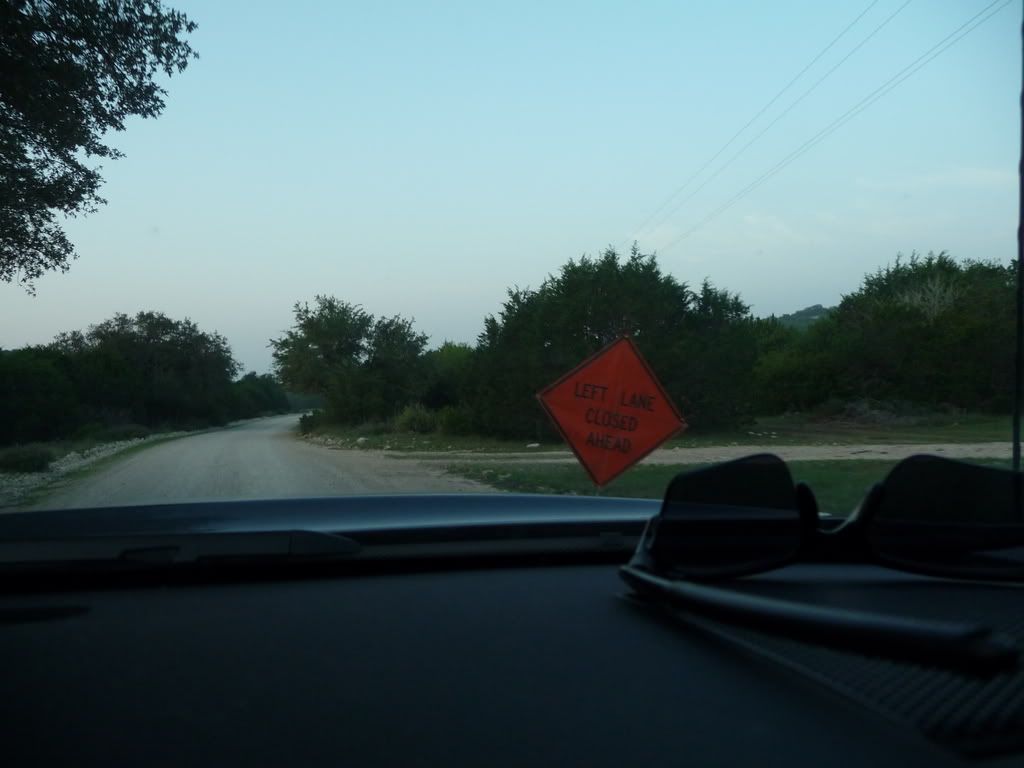 on a 1-1/2 lane caliche farm road?
Bonus for the weekend:
UT Cycling
was also there, hosting a collegiate race, so we got to spend some time with Kyle.
Since I wasn't "racing" I went to the top of the first climb to cheer for the Cat1 racers as they got to the top. Looking out from the top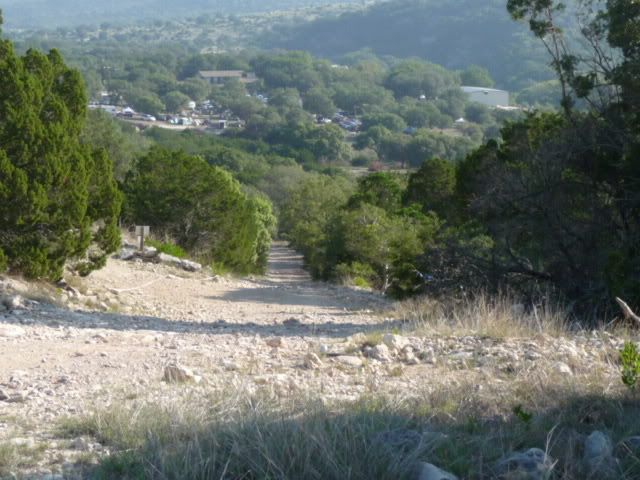 Pictures are deceptive, there is about a 100' climbing in a little over 1/4 of a mile. The big white building is close to the start line. The racers get to the base of the climb within 1/2 mile of starting.
Alan's group (Cat1 50+ Men)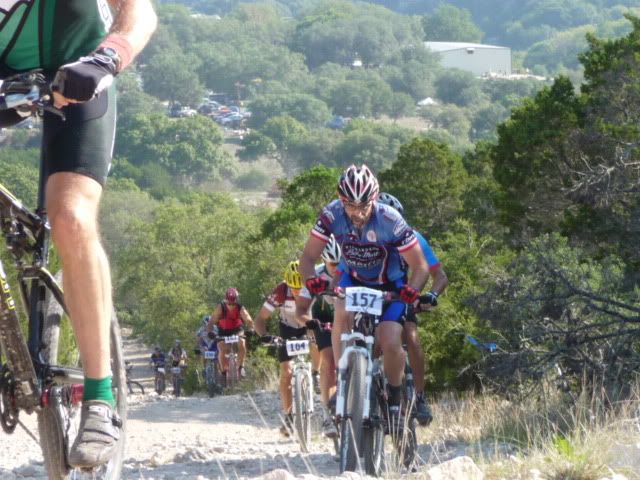 He's in 4th coming up to the top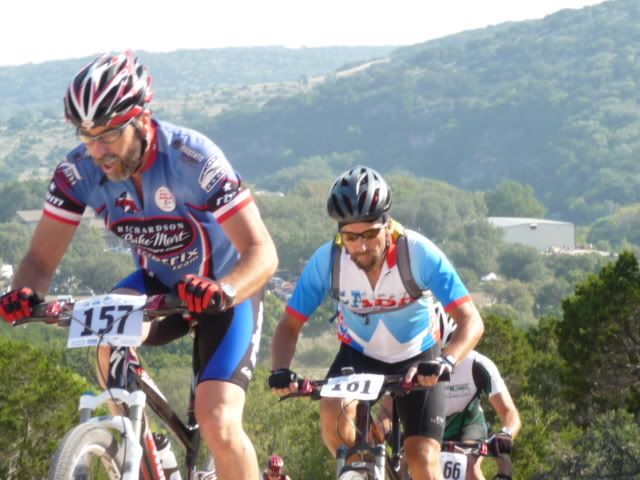 After the racers came by, I headed back down and began my work for the day. Cheering and working the feed zone (handing out water bottles to
my
racers). Normally the racers only come through the Expo area once a lap, but this course is set up like a figure-8 so they come through more often. Luckily all the guys I was taking care of came through fairly close to each other, so I wasn't having to watch two areas at once.
Kyle's group started 2 minutes after Alan's, so the challenge was on for Kyle to try to catch Alan and for Alan to not let that happen. Honestly, I was a little surprised to see Alan come though the 1st feed zone ahead of Kyle... but that was also the shorter loop. It would be interesting to see how they would come through after the longer loop. Lo and behold - Alan came through first again - so far he was having his best race at this venue. Kyle came through quicker than the first time, so he was closing the gap. The guys were on their last loop and had to face the climb again. Kyle would make up time on that part of the trail, but Alan would have the advantage in the dry riverbed (full suspension bike vs hardtail). I walked up the trail a bit from the finish line to see how this would all play out. It didn't take long for the guys to show and it was Kyle coming around the corner first. I waited for Alan to come around then made my way to the finish line (they still had about 1 mile of trail and I could take a short cut). Kyle came through the final section riding hard - I found out later that he had passed 4 or 5 collegiate riders in the last bit of trail - and finishing 5th.
Alan's finish for 2nd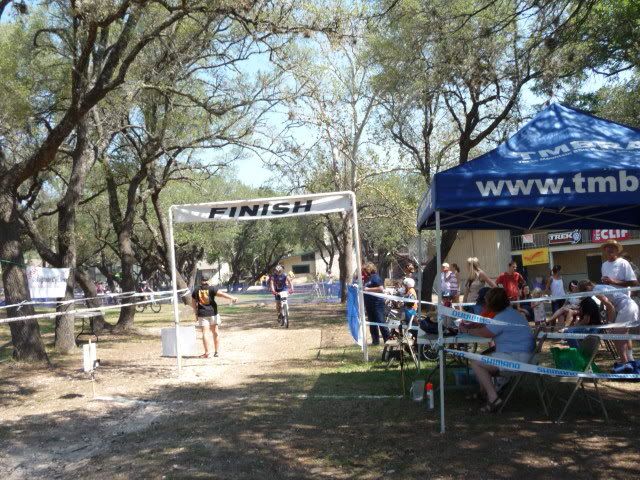 At a gas stop on the way home, we saw the sweetest ride
Check it out - paper plates. Someone just obtained their dream car!