The final stop in the "this is going to hurt" tour was this past weekend in Tucson, Arizona. My first century - a 109 miles on the bike and my first trip to Tucson, an awesome cycling friendly town.
Oh, to live in a city with signs like this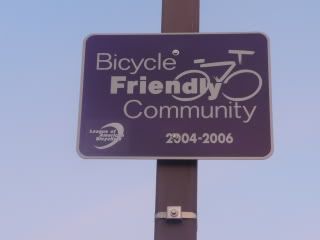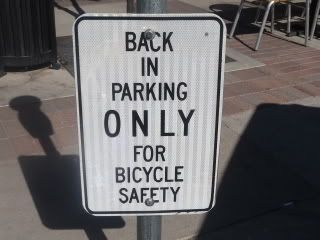 and drivers that actually yielded to cyclists!
Saw this in a parking garage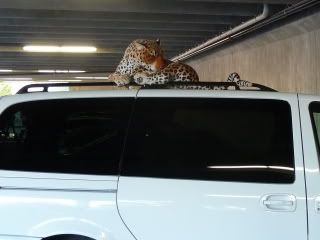 When I was taking the picture the owner of the vehicle walked up and said that it was his wife's idea to help find their car in parking lots. It was weird how realistic it looked from a distance.
Oops, I got sidetracked... The trip to Tucson and riding El Tour de Tucson came about because I was adopted by the
North Texas Team in Training
group that Alan was coaching to do this ride so I became an unofficial member of the team. Almost all of the Team in Training groups (I think there were 25 chapters there with over 400 riders) wear "flair" on their helmets to help identify each chapter. One of the group members once said that they all were soldiers in the battle against leukemia & lymphoma, so our flair was a cool little Army man
The Tucson ride isn't known for long or hard climbs, but there are two dry river bed crossing that have to be done. Seems like a strange layout for a road rally, but it is what it is.
The ride started at 7 in the morning, but since there were over 8,000 riders Coach Alan wanted us to get there early for good positioning; so it was up before 5am and on the bikes about 5:30 to ride to the start. We were fairly close to the front of our starting group and by 6:30 there was a large crowd behind us. Once again, the Coach made a good call. 7am finally rolled around and the racers were sent off, followed by those that expected to finish within 6 hours and on down the line. Surprisingly I saw two unicyclists start with the fast groups.
I did not set any time/speed goals for the ride, I just wanted to enjoy the ride and finish before dark. We had full two and three lane roads for at least the first five miles of the ride which was nice. Plenty of room for everyone and no cars to worry about. We came to the first dry river crossing at the 7-8 mile point, it was about 50 - 75 yards long and had been graded, so there were soft "shoulders" along the side and then a short climb up the other side to get out (I'm sure we looked like lemmings). My mountain bike sure would have been nice at this point in the ride. Some of our team support people were there and cheering for us by name as we came up the other side. Before long I was hearing "Go Kathy... who ever you are" from the other side of the crowd. There was even a Mariachi band playing for the riders as we came out of the crossing.
I get back on the bike and for some reason can't clip in... go figure, sand in the cleats.
People pass me and I pass people and the miles keep rolling by. At about mile 20-some-odd I see MB, one of our group and catch up to her. We have a good time riding together and the miles keep rolling by. We get to a roller section and MB is having problems with the climbs, so I ride with her and help her get up the ups. We turn a corner and I see a nice long climb, uh oh this does not bode well for MB. I tell her to use those gears and keep her cadence steady and I'll see her at the top. I pull over when I get to the top and wait for MB, soon enough I see her and cheer her up and over. This becomes our pattern. We ride well together, but MB has problems with climbs that are on the route. I either ride with her and coax(harass) her up, or wait and cheer at the top.
Before long (mile 46ish, about 3hr 30min into the ride) we hit the big dry crossing which is over a mile long. It's more than a dry river bed, it's more like a sandy road with a small concrete bridge in the middle which is where a rest stop is located. As we're climbing out of the crossing MB says "Are you thinking what I'm thinking?" What? "Thank goodness for nostril hairs!" Now where in the world did that come from??? "Just imagine what it would have been like without nostril hairs?"
Here's someone else's video of the Sabino Creek crossing
This time after getting back on asphalt you not only needed to knock the sand out of the cleats, but you had to take your shoes off to dump out the sand that had accumulated. Once again clipping in took an effort, but soon enough we were rolling again and wandering through a neighborhood to get to the main road.
Once out on the main road we get to one of the steepest climbs on the route. Luckily it wasn't very long, so I sprinted up to the top and waited for MB. Thanks to the sandy cleats, I almost gave everyone a laugh as I almost didn't get unclipped with I came to a stop. MB makes it to the top, which was better than the person that just fell over about 2/3 the way up (at least I was at the top and stopping on purpose before I almost fell over).
**Warning** Read the following at you own risk. It contains feminine bodily functions and is not for the squeamish or those easily grossed out.
After we get going again MB is saying that her leg was cramping a little on the climb. I asked what she was drinking and she said just water, but she had some mix to add. So we pull over and stop so she can get her drink mixed, at this time MB realizes that she has started... early... no necessary items at hand... great... we're on the outskirts of town... 50ish miles into a 109 mile ride... now what? Look, there's some people cheering the riders on. Wait - never mind, the youngest one is about 65. I go ahead and ride over to see if there's a store anywhere close by and they said there's one in town down the road and around the corner... wonderful. MB sends a text to one of the support people and all we can do is hope for a store or that we can be found. We decide to go ahead and start riding and she'll deal with things as they happen. About 1/2 mile up the road is a rest stop. We decide to take the chance and ask around. There was a woman photographer who was able to help out - whew! Irony for the day - the rest stop was sponsored by an Ob/Gyn.
Now that that has been taken care of we can get back to the business at hand and on the road. As we're riding MB says she's doing good and that I can take off if I want. I tell her we'll see what happens at the next stop. We get to a stop about 65 miles in and I decide it's time to stretch out the legs and to finish the ride off.
I have about 40-45 miles to the finish and my legs are feeling good. Since I'm basically starting at the back of the group I spend a lot of the time passing other riders like crazy. Before long I get to a long (about 10 miles) false flat downhill section so it's easy to keep up a fast 20+mph pace. I catch up to a local Team In Training Triathlon coach and we ride together and chat as we cruise along. He pulls off at the next stop we come to as his girlfriend is working at that one. I'm on my own again and just keep the pedals turning, holding a nice quick pace and having fun. I look back at one point and I see that I have a couple of riders sitting on my wheel. I've no problems with that. We get to a climb and at the top I look back again and I've lost my train - hee hee. Soon I'm back in town and heading to the finish line.
I finish the ride, drop my bike off at the truck for shipment back to Dallas and catch the shuttle back to the hotel to clean up. After a shower and change of clothes I go back to the finish line to cheer the rest of the group and all the other riders in.
Official finish time:
PLACE...NAME......SEX..AGE...TIME...MPH
1.....D.SALOMON....M......28...04:20:35.....24.9.(1st finisher)
99....E.ALLAR.........F.......23...04:38:02.....23.4.(1st female)
2854...K.JOHNSON....F.......48...08:11:57.......13.2.(me!)
3155..MB..................F.......40...08:43:43......12.4.(my ride buddy)
3814..R.VILLALBA...M.......41...12:08:40.......8.9.(last finisher)
My computer shows my ride time at 7:44:50 (about 15 minutes of that was at rest stops - I didn't get it stopped every time I did, so I'll guess my actual ride time at about 7hr 30min); average speed as 15.6mph; max speed of 31.1mph; total distance of 108.388 miles.
Oh yeah - remember the unicycles? I don't know if they both finished, but I did see one of them cross the line... WOW!
Promo video for the event: