Wow - it's already February! I keep meaning to write stuff then I get sidetracked/lazy/distracted and nothing gets done. I'm going to try to get things caught up, from our White Christmas to now. It may come in bits and pieces, but lets see what I can do.
White Christmas, 2009
This picture was taken on Christmas Eve and if you look you will notice something that is very peculiar for Christmas Eve in the Big D. See that white stuff on the ground? Yeah, that. It's called snow.
From the news of the day:
According to the Weather Service, it has snowed on Christmas Eve only a couple of times, but not enough to officially measure. Here are the highlights:
• 1943: Flurries fell for about a half-hour.
• 1955: The high was 88 degrees, a record.
• 1975: After continuous cold rain most of the day, there was a trace of flurries.
• 1983: The low hit 7 degrees, a record.
• 2002: There were flurries but no accumulation.
The snow on Christmas Eve led to an even more eventful White Christmas, which the area hasn't seen since 1926. (History: A prolonged snow event began on December 23 when 4-6 inches of snow fell from Brownwood to Comanche. On Christmas Day, 6 inches of snow fell across Dallas and Collin County. The official climate site at Fort Worth recorded 2 inches of snow, but the Weather Bureau office in Dallas measured 6.4 inches December 24-25, 6.3 inches of which fell on Christmas Day. Much of the snow was gone by the afternoon of Christmas Day.) Unlike the snow of 1926, this snow lingered for several days.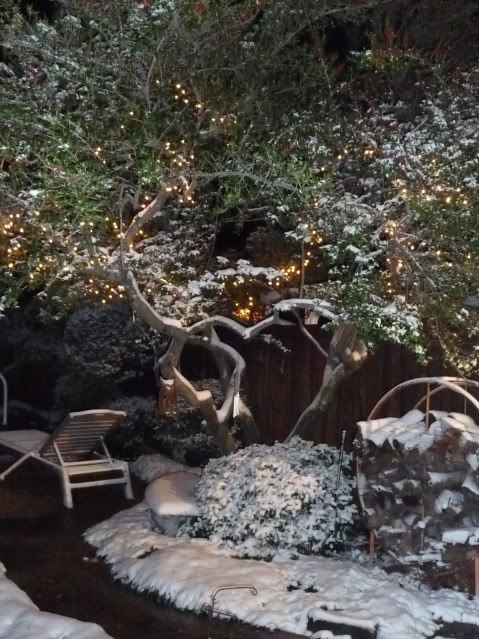 And what would a White Christmas be without a special gift from Santa Claus...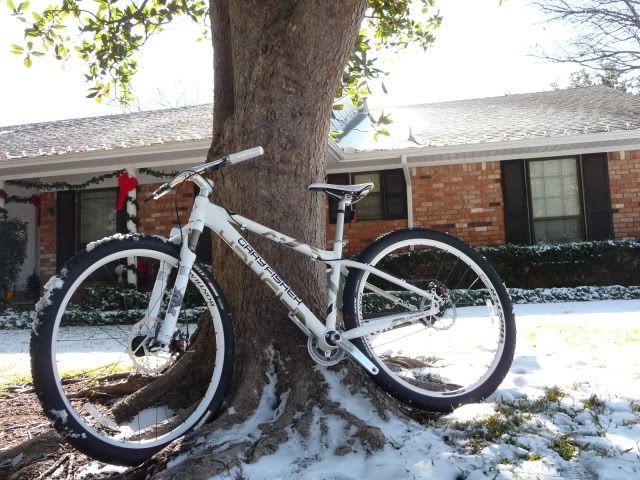 and what better on a White Christmas than a new white bike?
I know, I know... you're thinking that last thing she really needs is a new bike. That was also my thought, I have my mountain bike and a road bike. I'm not interested in track racing, so what else could I possible need? Apparently Santa thought that my "stable" was missing a single speed bike with 29" wheels and Santa being Santa, well - he fixed that problem.
Well, that's all for now... more later. I promise.