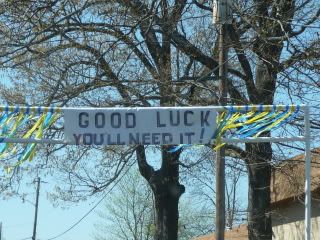 BTW - this has turned into an epic post... which I guess would be appropriate for an epic ride. Anyway, grab the popcorn and a drink, or maybe a pillow - cuz here it is:
Quick - what state are we in?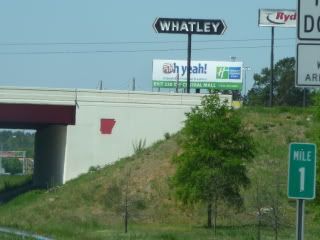 Someone wasn't having a good road trip
Short hop from Dallas to Joplin, Arkansas (did you get the right state?) of about 325 miles, which is no worse than what we travel for in-state races. We had the sweetest accommodations:
No phone or clock, but the room was fully equipped...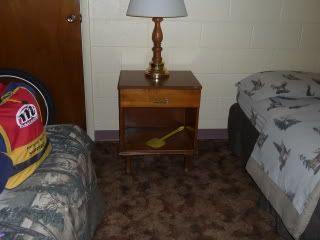 with a fly swatter!
Too bad we didn't get the room with the "guaranteed to wake you up" shower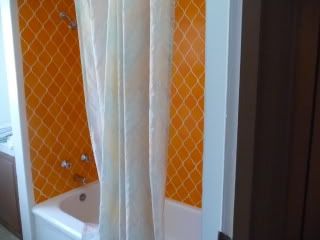 Saturday was the day of the Tour, so we headed out to support the 4 Team in Training members during their event. Heading out early in the morning we were greeted with a nice sunrise.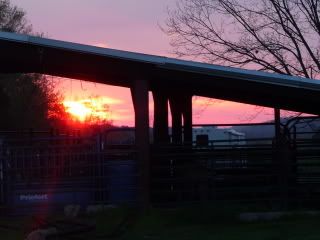 We spent the day
jeering
cheering riders from the DFW area and helping the Team members get through the day. Saturday night George & Teresa fixed up a sweet post/pre event dinner of crab legs, corn on the cob, new potatoes and cheese cake for dessert. Mmm Mmmm Mmmmmm.
Sunday morning rolled around and it was our turn....
YIKES!
We load everything up and drive out to the start in Oden. We didn't have Saturday's pretty sunrise. Instead we were greeted with dark clouds and a cool, dreary morning. Oh well, it is what it is.
The temperature for the day was already at it's highest, so there was a lot of indecision as to what to wear.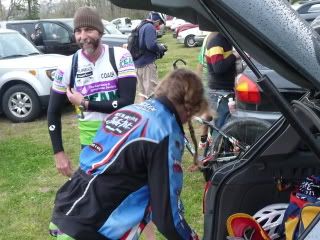 Then a light rain started... great. Luckily the rain never came down hard and didn't last long. Before long it was time for the racer's meeting, chatting with friends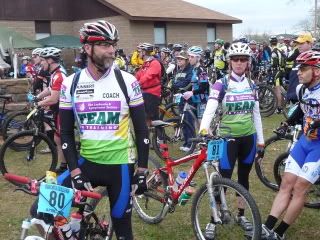 and then to the start with over 200 crazed mountain bikers ready to tackle 60 (blue number plate) or 80 (yellow number plate) miles of Ouachita Mountain trails.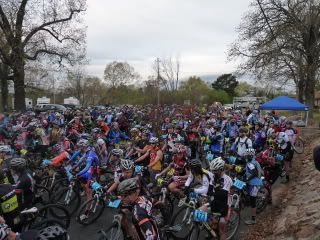 I find Jen and Pam and we stage up for the start...
then the reality of what we were about to do sets in...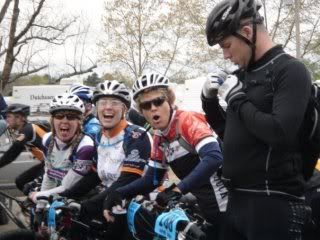 Notice the guy trying to ignore us?
The start goes along a couple of miles of climbing roads to give time for the group to break up before hitting the trail. We are then turned onto a double-track (2 lane dirt road) climb, and my legs are already turning to jelly. UGH - it's already looking to be a long day as I'm already hitting points where I have to get off and walk. At least I'm doing better than the racers scattered along the side of the trail that have flat tires. I see JC up the road and give him an air cartridge hoping that will help him out.
We finally get to some downhill double-track that leads to the Womble trail. Riding along that I finally seem to be doing OK and set a steady pace that I hope will last the day. As the trail goes on the bench-cut sections start (the trail is cut into the side of the hill and can be narrow). As someone that has a "issue" with heights, I can ride most of the trail - just not very fast. I have to work to keep my focus ahead, not down the side of the trail. Any real climbs still seem to be more than my legs can handle and I find myself back off the bike. I catch up to another lady and we keep leap-frogging each other. Amazingly enough, I seem to be better on the climbs than her, but she can handle the bench-cut trail and water holes better than me. Eventually I do pull away from her (yes!) and I'm back on my own.
I make it to the 1st Feed Station (22ish miles in) in about 2hr45min. I can only think about hitting the port-a-pot and putting on dry socks. I hook up with the the Team's tour riders that are giving us support and they give me a fresh bottle, food and keys to the car so I can change socks. Ahhh, it's the simple things in life that make us the happiest. Just a hair over 5 minutes and I'm back on the bike.
The next section is on the road again and I take advantage of this to stretch my legs and try to make up a little lost time. There's a bit of a headwind, but it's not too bad. I'm able to catch and pass a couple of riders. After about 6 miles of highway we turn off onto a forest service road, a hard pack small gravel road which you can still carry a good pace on, for a couple of more miles.
The next "fun stop" along the way was Fiddler's Creek which is about 25' wide. Apparently some years the water is low enough that the creek can be ridden. (
From the website

)

This year the water was about knee deep with a strong current down the middle, so riding was not an allowed option - the creek had to be crossed on foot. A rope had been strung across the river to use as a guide point and an anchor.
Since my shoes were starting to dry out and my sock were only damp, I
really
did not want them to get soaking wet. For better or worse, I decided to cross the creek barefooted. After taking off the shoes and socks I had then had to figure how to do this. The bike would need to be carried as it would not be good to submerge the hubs or bottom-bracket, also the current would pull at the bike. My brain was not engaging at this time and I just could not figure out what to do with my shoes. About this time one of the Team members (Larson, who happens to be a fire fighter) rode up and offered to carry me and my bike across. Awww - what a sweetie, but if I didn't do it myself it wouldn't count, would it? I looked at the shoes and bike, but still couldn't think of how to safely secure the shoes to the bike and keep them dry. So I shouldered the bike as best I could on my right, had the shoes in my left hand and also used that hand to grab the rope... or I should say used a couple of fingers to grab the rope. The creek bed was uneven rocks, so it was slow going (don't know that I could have gone any faster with my shoes on, either). After a couple of missteps, side steps and losing hold of the rope a couple times (thought I was going swimming once!) I finally made it across. As I was drying my feet off, Pam rode up. She saw that I had crossed bare-footed and decided to do the same thing. She got across as I was ready to get on my bike, and that's when I saw how she had hooked her shoes together by the Velcro straps and just laid them across the top tube on the bike frame... DOH!
Back on the bike and off up and down about more forest roads. There is a little bit of trail before coming to a self-serve Feed Station where I refill my water bottle and scarf down a banana. A bit more forest road and then it was time for... BLOWOUT MOUNTAIN! At the start of the mountain is where I get my coveted purple zip-tie that verifies that I started this section of trail At some point I would receive a 2nd zip-tie, I just had to get to where ever that point was.
To me Blowout Mountain is what makes the event epic, and is also the very reason that I vow to never ride this event again. The Course Information page states
Blowout Mtn. is steep, rocky and difficult, but it is less than 7 miles to Big Brushy Campground and Feed Station #4.
In my opinion it should be more like

Blowout Mtn. is steep, rocky, difficult and will give you a taste of mountain biker hell. It will also give you a reason to be sent to hell, as you will most likely verbalize every curse word you have ever known and may also cause you to make up a few new ones

(I know I did, some of them more than once)!

This section of trail reinforced my lack of technical skills and I spent much, if not all, of my time on trail walking, trudging, cursing and searching for the end.

Eventually, persistence and mule-headed stubbornness paid off and I reached the end of the nasties and was greeted by a bit of ridable (for me) single-track. That section of trail dead-ends at a highway where there are two volunteers directing the cyclists. I hear something about a guard rail and not crossing the road until I get to the other guys down the road... OK, sure, whatever and I get up on the road and go to the left. I hear yelling, look behind me and see the guys waving their arms and pointing in the other direction... where the guardrail is... OH, oops. I turn around and head the correct direction. (I later find out that I'm not the only one to do this.)

Down the road - in the right direction - a bit, cross the highway and get onto a sweet section of trail that flows. Yeah, baby - this is what I like! This section ends all too soon and I come to food Station #4 and the final time cut point. This point is about 46 miles into the race must be reached by 3:30, 7-1/2 hours after starting. I made it with 30 minutes to spare, arriving at 3:00. I grab a quick bottle, cram some PB&J sandwich in my mouth and in just a hair more than a minute I head off. 15 miles to the finish. It didn't matter how long it took... just had to find that other zip-tie and the finish line. I cross the Brushy Creek bridge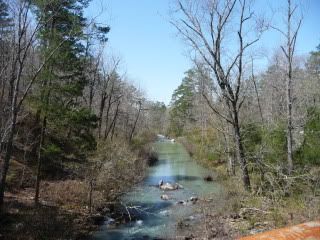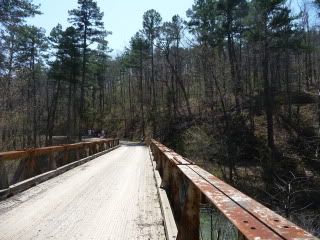 head down the road for a bit and turn onto the last section of single-track. This trail looks like it could be fun. Challenging, but fun. The only thing is that after everything else, I am so tired and worn out that I can't enjoy it. This trail also gives you it's share of torture. You climb, then go down; then climb, then go down; rinse and repeat until you don't think you can stand to do it again. I ride until my legs say "nope, not pushing that pedal down one more time", then walk until they say "nope, tired of walking". Once again I'm playing leap-frog with some others, some I pass and don't see again, some we keep playing the game. I also get passed by the occasional 80 miler (they had an extra 30 minutes at the final time cut). I'm riding with another rider and I ask him if he has any idea how much longer before we get to the end of the trail. He tells me that since there are some people standing around right ahead of us that we must be there! YES! 1hr 40 min for a little over 6 miles - definitely not setting any records.

We ride down to the group and the end of the trail. There we get the final zip-tie (orange), an offer for water and directions to the end. I see Larson (the gallant fire-fighter) and ask him if he's going to let me beat him to the finish. "I don't plan on letting you" was his answer. We get out on the forest road and I AM OUT OF THERE! It soon turned into a down hill section that just begged for speed. I don't know how or where my legs found the power to pedal, but I was pushing the biggest gear I could and was having a blast. Although I still died on the climbs, I would go from the biggest gear combination to the smallest, I still felt good. Soon I turned onto the highway and the final two miles to town and the finish line. I keep the pedals turning and after cresting the final climb, going from 28.7mph (my max speed of the day) to 6.1mph back to 22.4mph and the finish line is in sight.

Seeing the School Zone sign and the school ahead I get a final burst of energy and crossing the line I am greeted by honking car horns courtesy of the Team members that had finished.

You can't tell, but I'm very happy



and a good hug makes it even better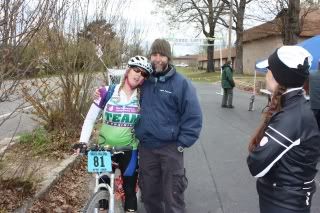 All that for two little zip-ties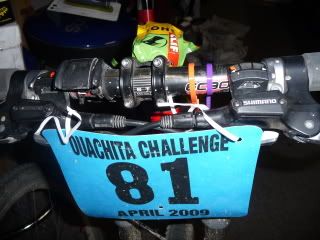 Final recap of the information downloaded from my bike computer:
60.3 miles in 9hrs7min1.9sec
Avg speed 7.8 mph, max speed 28.7mph
Total ascension 5890'
Start temperature 61deg; ending temperature 48deg and windy.