The Waco TMBRA race was canceled due to 4"+ of rain that fell from Wednesday to Friday prior to race day. Dallas got its own share of well needed rain, so the trails were off limits to us. This meant that the TNT group training ride would be moved to the road, so we joined the Tahoe group ride in Flower Mound.
5am Saturday morning it was raining.
8am Saturday morning looked like this
on our way to go ride.
The rain stayed away and although the clouds never left the roads did dry. The day stayed cool, but since we've been doing a lot of riding this winter I've got the layers figured out for the most part. My toes did turn into numb blocks by the end of the ride. When I changed I found that my socks had gotten wet, so that explained the cold toes.
Saw this on the ride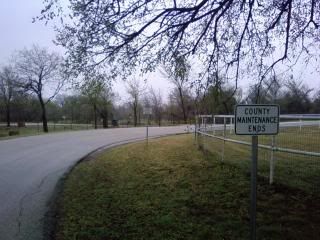 You can't see it, but the 2nd sign reads "County Maintenance Begins". What does the County have against that little section between the two signs?